Reiterpallasch
(pronounced 'Rhyterpallash') is a
Trick Weapon
in Bloodborne; it's one of three skill-based "firearm" weapons.
"Weapon wielded by the Knights of Cainhurst.
Combines an elegant knight's sword with the peculiar firearm wielded by the Cainhurst order.
The old nobles, long-time imbibers of blood, are no strangers to the sanguine plague, and the disposal of beasts was a discrete task left to their servants, or knights, as they were called for the sake of appearances."
Reiterpallasch Information
This particular trick weapon transforms between a rapier and gun with bayonet attachment (which is technically the same blade as the rapier).
Similar to normal firearms, the transformed mode can fire Quicksilver Bullets.

However, it's not fired with L2 like a normal firearm. Instead, you click R2 while transformed to shoot.
As a result, it's possible to run Bloodtinge builds that can wield two firearms at the same time.
Location
Normal
It's found in a chest located in the entrance hall of Cainhurst Castle, where the Bound Widows are first encountered. When you first enter the room from the main entrance, run towards your two o'clock. The chest will be found in a corner.
Uncanny Reiterpallasch
Cursed and Defiled Root Chalice - Fetid/Rotted/Cursed (it is unknown whether these Offerings are required for it to appear there)(they are not required, glyph rm9skkef has no offerings applied)
Glyphs: rm9skkef (Layer 1, pre-boss), 7h87j4h7 (Layer 3), pdzhstqg (Layer 1,first bonus area)
Lost Reiterpallasch
Glyphs: rra4n2eq (Layer 1, pre-boss; Fetid, Rotted), 5543imxn (Layer 4), 57qjvat6, pwmf22gu (Layer 1, pre-dungeon, FRC)
Player Notes
The normal mode's transformation attack will fire a shot (useful for parry baiting), but the transformation attack from gun to rapier is a simple thrust.

R1 attacks are generally thrusting when wielded in normal mode, and slashing when wielded transformed, with a few exceptions.

The mix-up between the attack types (thrust and regular) can help if opponents are resistant to one form of damage but not the other.

Also note that the R1 attacks can also help you remember if the Reiterpallasch is transformed or not. Since this weapon can be difficult to remember which form it's currently using in the heat of battle, simply watch how your R1 attacks are swung at first.

If they thrust first, it's in regular mode.

If they slash first, it's in transformed (gun) mode.

You can still perform a leap attack (Forward + R2) even while the weapon is transformed; no shot will be fired.

Be careful if you attempt this attack when you have no Quicksilver/Blood Bullets remaining. If you fail to do the leap attack and instead try to fire the gun, the Hunter will attempt to shoot the gun but fail; this starts an animation which leaves the Hunter defenseless for a quick moment.

This weapon can be buffed by external sources (e.g. Empty Phantasm Shell).

Keep in mind that the Reiterpallash cannot be buffed with Bone Marrow Ash.

Bone Marrow Ash can only be used on left-handed firearms.

Bloodtinge only affects the damage of the pistol shot from the transformed mode.

However, Blood Gems that increase physical attack will also increase the blood attack value used for the pistol shot.
This can potentially put the built-in pistol on par (damage wise) with regular left-handed pistol firearms, before buffs are taken into consideration.
Keep in mind that the Bloodtinge scaling for the Reiterpallasch is also fairly low at the same time.

Despite having Arcane scaling listed, the weapon cannot be converted into Fire/Bolt/Arcane damage from blood gem fortification (though flat elemental damage gems will still apply).

This weapon's tranformed mode can unleash some interesting combos/build choices.

Since you can wield a gun in the right hand, you can parry opponents even if your left-handed choice cannot. As a result, you can equip the following to add more versatility to your builds:
Stats/Scaling
R:
Rally/Regain
. The amount of HP regained on an R1 attack immediately after taking damage
| | | | | | | | | | | | | | | R |
| --- | --- | --- | --- | --- | --- | --- | --- | --- | --- | --- | --- | --- | --- | --- |
| +0 | 75 | 75 | -- | -- | -- | -- | -- | 100 | 100 | E | C | E | D | 40 |
| +1 | 82 | 82 | -- | -- | -- | -- | -- | 100 | 100 | E | C | E | D | 44 |
| +2 | 89 | 89 | -- | -- | -- | -- | -- | 100 | 100 | E | B | E | D | 48 |
| +3 | 96 | 96 | -- | -- | -- | -- | -- | 100 | 100 | E | B | E | D | 52 |
| +4 | 103 | 103 | -- | -- | -- | -- | -- | 100 | 100 | E | B | E | D | 56 |
| +5 | 110 | 110 | -- | -- | -- | -- | -- | 100 | 100 | E | B | D | C | 60 |
| +6 | 117 | 117 | -- | -- | -- | -- | -- | 100 | 100 | E | B | D | C | 64 |
| +7 | 124 | 124 | -- | -- | -- | -- | -- | 100 | 100 | E | A | D | C | 68 |
| +8 | 131 | 131 | -- | -- | -- | -- | -- | 100 | 100 | E | A | D | C | 72 |
| +9 | 138 | 138 | -- | -- | -- | -- | -- | 100 | 100 | E | A | D | C | 76 |
| +10 | 150 | 150 | -- | -- | -- | -- | -- | 100 | 100 | E | A | D | B | 80 |
Average Physical Attack Increase
Strength Stat

Stat Range

Damage per Point

Estimated Attack Gained

9 to 25

0.82

14

26 to 50

0.44

11

51 to 99

0.08

4

Skill Stat

Stat Range

Damage per Point

Estimated Attack Gained

13 to 25

4.54

59

26 to 50

2.08

52

51 to 99

0.47

23

Bloodtinge Stat

Stat Range

Damage per Point

Estimated Attack Gained

11 to 25

1.87

28

26 to 50

0.84

21

51 to 99

0.18

9

Move sets & Videos
Reiterpallasch full move set showcase
Regular Move set
| Move | Damage Type & Modifier[1] | Stamina | Effect |
| --- | --- | --- | --- |
| R1 Combo | and 1.0x | 18 | The combo starts with the blade to the left side of the character's face and thrust forward, followed by a return to the left side and slash from left to right, a quick stab originating from the right side, then a twist that leads to the sword going overhead and brought vertically down in a slashing motion. After this, attacks start to repeat but oddly skipping the first attack (thrust from left side of face). The fifth attack returns to the left to right slash (attack 2), then the stab from the right side (attack 3) and the overhead slash (attack 4). |
| Quickstep R1 | 0.9x | 15 | All quickstep animations feature a diagonal slash after a short hop forward. The left step goes from lower left to upper right, with the three other step directions going from lower right to upper left. |
| Backstep R1 | 0.9x | 15 | Following a quick hop forward, the sword is raised up and slashed down and to the left, striking the ground. |
| Rolling R1 | 0.94x | 25 | The tip of the blade lightly scrapes the ground to the right and away from the hunter and is brought up in a slashing motion. The path is diagonal up and left. |
| Dash | 1.12x | 25 (+run) | The sword is slashed from left to right. |
| R2 Attack | 1.28x | 35 | The attack is very similar to the R1 with the blade being brought up to the left side of the hunter by their head. However, rather than pointing the tip forward and thrusting, the wrist is snapped to have the blade pointed back and then slashed from left to right. |
| Charged | 1.93x | 50 | The animation holds the blade pointing forward like at the beginning of the standard R2. After a brief charge it is then thrust forward straight out. |
| Backstep R2 | 1.18x | 40 | After hopping forward, a very similar animation start to the standard R2, but like the charged attack, the wrist is not turned and the blade is thrust forward instead of slashing. This looks very much like a faster version of the charge attack. |
| Dash | 1.25x | 30 (+run) | The hunter's arm is cocked back and the blade is stabbed forward after a very brief pause |
| Leap | 1.50 | 50 | The arm is raised above the right shoulder and the sword is swept from right to left in a diagonal striking the ground as the character lands. |
| Transform Attack | Not comparable to R1<All attacks that use the gun are the same damage</ref> | 0 (+x) | There is only one animation for this attack. The sword is brought to the left side of the face, like the R1 attack. Rather than stabbing or slashing though, the weapon quickly transforms and fires a shot off while held near the hunter's face. The speed this can occur with makes this a good way to fire a shot unexpectedly. It can be done at any point in the potentially very long R1 combo for instance and the zero stamina use means this can cap off a combo very well. |
Transformed Move set
| Move | Damage Type & Modifier[2] | Stamina | Effect |
| --- | --- | --- | --- |
| R1 Combo | 0.70x | 16 | A more limited combo than the other mode, two alternating attacks. A slash from right to left, followed by one from left to right. The range is very limited thanks to the transformation making the blade shorter |
| Quickstep R1 | 0.90x | 26 | There is only one quickstep animation in this mode. The character takes a couple quick steps forward and stabs the weapon forward. |
| Backstep R1 | 0.90x | 26 | The weapon is brought over the left shoulder and slashed downward. The tip of the blade barely strikes the ground |
| Rolling R1 | 0.94x | 26 | The roll is concluded with a fast thrust forward and up in front of the character. |
| Dash R1 | 1.18x | 25 (+run) | The sword is brought to the left side and slashed from left to right horizontally while crouching. |
| R2 Attack | Not comparable to R1 | 0 | The weapon is brought up to face level in front of the hunter and fired. |
| Charged | N/A | N/A | There is no charged attack in this mode. |
| Backstep R2 | Not comparable to R1 | 0 | A rare backstep indeed, as the player does not hop forward to engage the player. This is hardly needed though as the weapon is raised and a quick hip shot is fired right. Another oddity is that most weapons do not have quickstep R2 attacks (defaulting typically to a standard R2). This weapon uses the backstep animation as described above |
| Dash R2 | Not comparable to R1 | 0 (+run) | The hunter stops in his tracks and fires off a quick shot from a semi-crouched position. This is very similar to the backstep hip shot |
| Leap | 1.43x | 50 | The hunter jumps forward and slashes from left to right, with the tip of the blade striking the ground as the character lands. |
| Transform Attack | 1.12x | 23 (+x) | The character thrusts the weapon forward as the blade extends. Animations can start from the right or left side of the character's face, depending on the prior action (backstep is right side, R1 is left side). |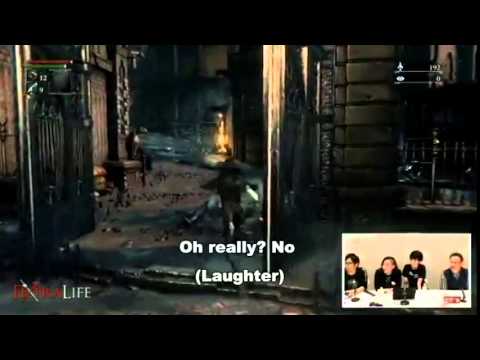 Trivia
The Reiterpallasch

(from German

Reiter "horseback rider" and hungarian

pallos [ˈpɒloʃ]

"sword") is a 17th century Hungarian straight sword with a typically double edged blade and guarded hilt that was used by Hungarian noble cavalry and later adapted by most western European armies.

As pointed out in its description, the rifle spear is possibly made in imitation of "a lost Cainhurst weapon" (i.e. this one).
Wynne D. Fanchon from Armored Core: For Answer; another From Software title, pilots a NEXT named Reiterpallasch
---
^ Tested in PvP with naked characters, BL 120 with maxed weapon
^ Tested in PvP with naked characters, BL 120 with maxed weapon